About the Danish Veterinary Consortium
The Danish Veterinary Consortium (DK-VET) is a collaboration between the University of Copenhagen (UCPH) and the Statens Serum Institut (SSI) for the performance of the veterinary public service agreement. This agreement is signed by Ministry of Food, Agriculture and Fisheries (FVM) and University of Copenhagen (UCPH).
A strong One Health constellation
Denmark's  contingency plan for the human and veterinary area is entirely in line with the "One Health" mindset, where it is recognized that prevention and control of diseases is best done as a collaboration between veterinarians, medical doctors, biologists, and others,  due to the close interaction between people, animals, food, and the environment.
 The Danish Veterinary Consortium will provide research, consultancy services, diagnosis and laboratory analyses in connection with the monitoring and control of approximately 80 different livestock diseases. Public sector consultancy includes everything from disease surveillance and handling of specific emergency tasks, e.g. including suspected disease outbreaks to assistance in the form of risk assessments, research projects, questions from the Minister, etc.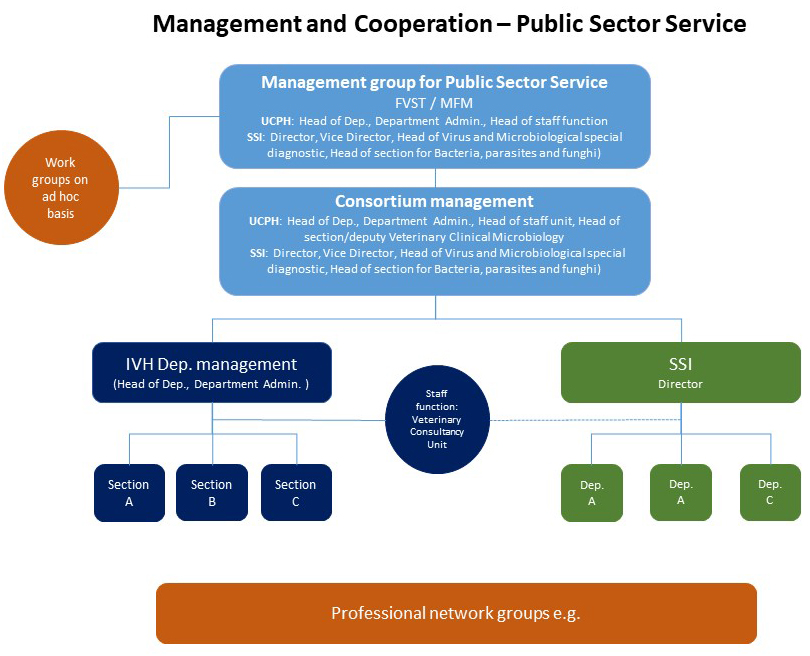 Contact us
You are welcome to contact us with input to our work and good ideas for projects or initiatives that would be relevant to address for the Danish Veterinary Consortium.